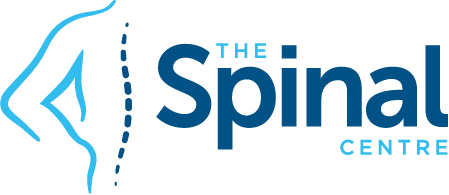 The 4 Step Festive Season Survival Guide
You can indulge in a bit of extra eating and drinking without developing Santa's waistline, as long as you prepare for it. It all comes down to balance. If you are going to drink every night and overeat your way through the festive season without a commensurate increase in physical activity – you will put on weight! It's not rocket science! Try this 4 Step Plan to get through the festive season in the best shape you can.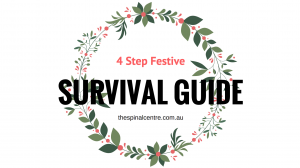 No Guilt
There is no need to abstain from celebrating – you have earned it.
If you are alive, your house hasn't burnt down and you've got a few plants left in the garden you're doing well. You are miles ahead of others in the community.
Enjoy what you have got. Try and tolerate the annoying family members (you probably won't see them for another year anyway). Chill out and enjoy your beak. Take the time to rekindle your relationship with your partner and/or your kids.
Pace Yourself
Whether you're having breakfast with friends, attending an all-you-can-eat buffet lunch or enjoying dinner at an expensive, swanky restaurant, remember that you're in control: you choose what to put on your plate.
Eat to be satisfied – not be stuffed. Remember that it takes about 20 minutes for your brain to register that your stomach is full.
I guarantee that there will be food left over. Put smaller portions on your plate and come back for more if you are not satisfied. We are training ourselves to eat larger and larger portion sizes. Change your thinking from finishing everything on your plate to eating just enough to satisfy your hunger.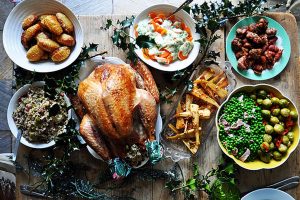 Here is a bit of food for thought:
At Breakfast:
Avoid fatty meats such as sausages and bacon.
Instead of the usual fried or scrambled eggs, order poached.
Say no to butter and margarine; spread your bread with jam or Vegemite.
Choose hot cereal (such as oats) over cold (generally higher in sugar).
Forget cream; top pancakes or fruit salad with reduced-fat natural yoghurt.
Ditch juice and hot drinks in favour of water. It will help you feel fuller, save on kilojoules – and it's good for you.
At the Buffet:
Be wise about size – choose a smaller plate rather than the largest on offer.
Fill half your plate with vegetables and/or salad (but steer clear of those with creamy dressings), one-quarter with lean meats or fish, and one-quarter with grains. You'll feel more satisfied and, therefore, less tempted to go back for seconds.
Avoid fatty meats. Select baked or roasted cuts, but remove the skin before you tuck in.
Say no to deep-fried seafood – remember grilled is the way to go.
Walk past the pastries; for dessert, choose fresh fruit instead.
Once you're done, step away from the buffet!
At the Table:
In general, avoid creamy, stewed or stuffed dishes; select those that are steamed, broiled, baked or roasted.
Have a bowl or soup as an entrée. It's nutritious and will help fill you up.
Pick a tomato-based pasta or risotto dish.
Skip raves and rich sauces; ask for dressings to be served on the side, then drizzle only half over your salad.
If you plan to order dessert, order an entrée sized main meal instead of a regular main-course portion.
Party Tricks:
You don't have to be a party pooper. What is important, however, is to stick to your meal plan throughout the day of the event.
By eating regularly, you'll ensure that you're not famished by the time you get there, so you won't be tempted to scoff everything in sight.
Offer to donate a plate of nibbles. That way, if you are hungry, you'll have something healthy to snack on.
If lots of treats are constantly on offer, keep your hands full to avoid temptation – a glass in one hand and a serviette in the other should do the trick.
Steer clear of nuts. While they're good for you in small amounts, they're loaded with fat.
Skip the junk items like chips. Instead, go for the healthiest option of offer: fruit, pretzels, air-popped popcorn or even olives.
Drink in Moderation
I am the first to advocate a few drinks at this time of year – but be aware of how much you drink and how often you are drinking.
A couple of champagnes or pre-mixed drinks are great to loosen up, but too many through the "festive season" will see you stack on the kilos. If you are going to drink make sure you have plenty of water before you start – particularly on hot days. Two or three cool glasses of water, even some sparkling mineral water, will help to keep you hydrated and stop you "downing a couple of beers" because you're thirsty.
Mix white wine with soda or sparkling natural mineral water, and say no to cider and beer. Try sipping on a glass of dry red wine instead. Choose cocktails with care. Avoid any that contain cream, coconut or syrupy juices, and use diet cola or diet lemonade to mix your drinks. (Not that I am a big fan of diet drinks). If you really don't want to be tempted, offer to be the designated driver.Your friends, and your body – will love you.
In Chinese Medicine we talk about protecting the spleen and stomach by having food before drinking alcohol and I think this is a pretty good idea. There is no question that having a little food and water prior to hitting the grog will reduce your overall alcohol intake. And you will be able to metabolise the alcohol better with less impact on your liver and digestive system.
Finally, try to mentally allocate the days that you are going to drink ahead of time. This may sound a little retentive but it does work well.
Pick the days or events that you want to have a drink, but give your body a break in between. Do not settle into "chardy o'clock" (or beer o'clock) every day. There is no way you burn that many kilojoules. Do this and you will be listing "detox" and "weight loss" high on your new years
resolution list.
Alcohol inhibits your body's ability to burn fat. And a night of heavy drinking can affect your energy levels for days after, ruining any chance of doing some exercise. Aim to have no more than a few alcoholic drinks – and be sure to dance 'til you drop to burn extra kilojoules.
Map Out Your Exercise
It sounds a bit organised I know but this is a great time of the year to re-kindle your exercise program. It is the party season, but it is also a great time to get outdoors and get fit. Allocate some time to go for a walk each day. Heck, walk morning and night if you can! Make sure you are doing your stretches. They are as important as brushing your teeth. If you have a spinal problem or you are recovering from an injury this is a great time to commence (or continue) your rehab. One of the best things you can do for your spine is swimming. And swimming doesn't get any better than in summer. You don't have to pump out 10 laps of freestyle (if you can, great) just grab a noodle, float on your back and do a couple of lazy laps. It is perhaps the best activity you can do to relieve back pain and help strengthen your spine!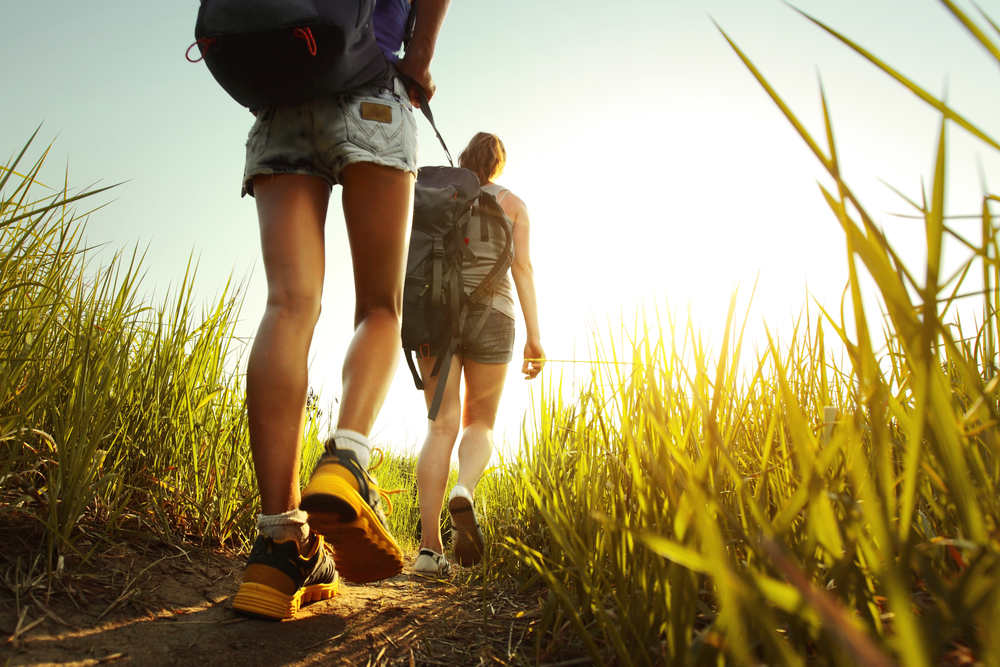 Here are a few suggestions in no particular order:
Take advantage of daylight savings; go for a half hour walk after dinner before you retire for bed. You'll sleep a lot better and burn some of the kilojoules from dinner.
Try an activity that you would normally do like going for a bike ride, kayaking or rock climbing. Yep, you might be a little sore the next day – but you will have done something different!
Swim along the beach for 100 metres a few times if you can, even walking in the water at waist depth can be a great workout.
Walk with your partner along the beach and watch the sunrise.
Try a new machine or exercise at the gym. Increase your reps and lower the weight. Take some of the stress off the joints and increase the cardiovascular output.
Final Thoughts and a Few Tips
The holidays are meant to be fun, so cut yourself some slack. Plan ahead, measure your pleasure and, above all, keep active. Use these tips to keep on track:
Know your body. It takes approximately 20 minutes for your mind to recognize that your tummy is full, so be aware of this whenever you pile up your plate.
Enjoy every bite. Eat slowly – studies show you'll be more inclined to eat less if you do so.
Practice saying no. You don't have to give in to peer pressure. True friends will respect your decision to lose weight and admire your self control.
Plan your exercise. Use this time to go to the gym, head to the pool, or take those walks.
Realise no one is perfect. It's okay to have a 'bad-eating' day now and then – but that's no reason to give in to a week-long binge. Refocus the very next day.
If you like this article be sure to visit the Spinal Centre website at www.thespinalcentre.com.au and view more content by Dr. Hooper and the Spinal Rehabilitation Team.
© 2019 The Spinal Centre. All rights reserved.