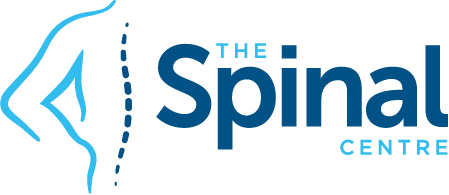 The Efficiency of Compression Extension Traction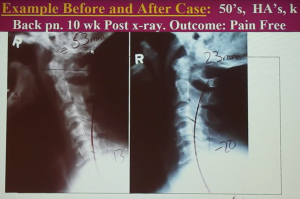 This video looks at  'The efficacy of cervical extension-compression traction combined with diversified manipulation and drop table adjustments in the rehabilitation of cervical curve'.
In easy terms it is the first paper to show the use of extension compression traction as well as manipulation in the restoration of normal neck curvature.
Article: Harrison, D. D., Jackson, B. L., Troyanovich, S., Robertson, G., & Barker, W. F. (1994). The efficacy of cervical extension-compression traction combined with diversified manipulation and drop table adjustments in the rehabilitation of cervical lordosis. A pilot study. Journal of manipulative and physiological therapeutics, 17(7), 454-464.
Learning Objectives: Review the origins of cervical extension and extension compression traction for restoring normal cervical lordosis. Can adjusting alone change cervical curve alignment, or is traction required? Can radiographic positioning and measurements be reliable across examiners and over time?
Patients where selected in a non randomised manner to three different groups for assessment. 
Group 1: Control group with no treatment.
Group 2: Diversified adjusting, and Posterior to Anterior Drop table (CBP) adjusting. No extension compression traction for this group.
Group 3: Randomly picked 35 subjects out of a cohort of 200 patients treated with Chiropractic BioPhysics adjustment technique, diversified manipulation and cervical extension compression traction.
Control group had no change to lordosis. No change to forward head posture or symptomatic presentations.  
Are X-ray positioning repeatable? Control groups suggest this is the case. X-ray positing is reliable and repeatable, X-ray line drawing is reliable and repeatable, based on study findings.
Group 2. Adjusting only with no traction; no statistically significant change in cervical curve. No change in forward head posture. 
Group 3. 35 from 200 patients that received Chiropractic BioPhysics and Traction. Traction and Adjusting group had a 13.2 degree improvement in cervical lordosis from C2 to C7. Eighteen of the twenty four (75%) had cervical kyphosis returned to a cervical lordosis following treatment. This is the first trial to show patients with a neck kyphosis can be returned toward lordosis in clinical setting.
Patients in group 3 also had a 6.8mm reduction in forward head translation (improved posture). The effective dose of 450 minutes of traction. Patients in group 2 and 3 were seen on average 5 times per week.
Figure 1. X-ray showing Forward Head Posture (FHP) with head translated for from away from the ideal neck curve.
Figure 2, a Lordotic spinal configuration is depicted, where the neck curve mimics that of the red line.
Conclusion
Adding cervical extension compression traction to spine manipulation resulted in increased cervical lordotic angles and reduced forward head posture.
The result provides evidence that extension traction causes extension creep deformation of the cervical spine soft tissues. Extension creep is postulated to improve cervical lordosis.
Future investigations must be performed to identify if patient conditions are improved as a direct result of improved cervical lordosis.
In conducting clinical research, Harrison, Jackson, Troyanovich, Robertson, and Barker (1994) found that a significant proportion of patients with a kyphotic spinal configuration returned toward a more lordotic spinal configuration following extension-compression traction treatment. 
This was the first project to statistically support this conservative technique, with a 75% success-rate. 
If you like this article be sure to visit the Spinal Centre website at www.thespinalcentre.com.au and view more content by Dr. Hooper and the Spinal Rehabilitation Team.
© 2019 The Spinal Centre. All rights reserved.