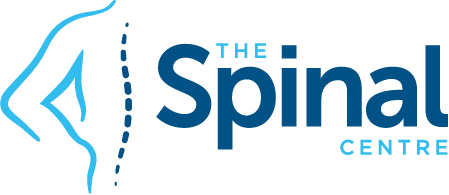 Phase 3 – Fusion
The windows for the nerves are no longer visible which indicates significant nerve damage for the patient. Because there is so much nerve damage the patient often cannot feel pain correctly. These areas become numb, weak and waste away!
Phase Three involves Fusion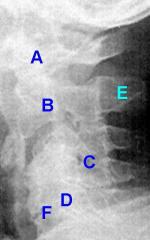 Side view of Cervical Spine: The Neck. This is the side view of a patient facing to the left
A: The Atlas; the first cervical vertebra (C1)
B: The Axis: the second cervical vertebra (C2)
C: The Intervertebral Foramen (window to the nerve)
D: The fifth cervical vertebra (C5)
E The Spinous Process
F: The Intervertebral Disc (the disc)
Note:
The spine no longer looks like a spine.
It is hard to see where the vertebra begin or end.
The x-ray looks like a picture of cotton wool.
The body has turned the affected spinal joints into a solid block of calcium.
Your X-Rays are usually read as "old age" or "arthritis" by a GP.
Stabilisation – Phase 3: at least 30 years of spinal injury
Symptoms:
Chronic dull back pain with bouts of frequent prolonged acute debilitation.
Weather changes reflect increased susceptibility to both pain and continuing disability associated generally with other "arthritic conditions".
Constant requirement for medication.
Significant limitation to daily activity coupled with constant pain.
Additional symptoms including discitis and epidural fibrosis (fibrosis around spinal cord).
Signs:

1. Generalised muscular wasting and tenderness at both the joint and extremity levels.
2. Constant restriction of movement often accompanied by pain in all motion.
3. Generalised scoliosis and loss of posture.
4. Radiographs: Your x-rays are usually read as "old age" or "arthritis" by a GP.
5. Enlarged degenerative locked facets with surrounding degenerative fibrosis.
6. Severe loss and collapse of disc heights with surrounding degenerative fibrosis.
7. Large bridging ankylosing osteophytes (bone spurs are now fused together).
8. Reduced and occluded lateral exiting foramina.
9. Abnormal reduction motion upon functional movement. Gross kypho-scoliosis.
Treatment Frequency:
Initially programs vary between 2 to 4 sessions per week for up to a 10-week period before significant and sustained recovery is seen.
Functional loading X-ray comparison performed approximately 12 months after the commencement of treatment, and rehabilitative care has completed.
Note: Chiropractic Care is essential for the elderly.