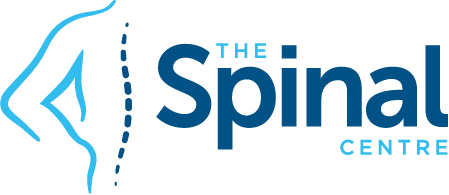 The Theragun – Power Drill or Your New Best Friend?
While it might resemble something you'd pick up at Bunnings, the Theragun is becoming the new best friend for many of our patients here at The Spinal Centre.
The foam attachments create localized vibration to stimulate intense blood flow to treat sore muscles, chronic pain and improve mobility. The frequency of the device is calibrated to interrupt the brain's pain receptors, reducing discomfort during treatment. The Theragun works well on tight muscles, relaxing them in a matter of minutes. Despite it's intimidating exterior, it never actually hits the body with force, instead it glides across the body with constant vibration.
The creator, Dr. Jason Wersland –  a chiropractor, was riding his motorcycle on Interstate 10 in California. He was hit by a car and herniated a disc in his neck. He searched his own practice for pain relief and nothing seemed to work. The Theragun was created and he finally had relief like never before. "I was never thinking that I was ever going to sell this. That was never the plan," Wersland said. "I wanted to be able to fix myself, so I went to my toolbox, got three or four tools and just kind of made this thing that was perfect for what I needed."
The gun is extremely popular amongst athletes, making appearances in locker rooms and on sidelines whether its elite basketball, football or tennis – they're all using it! Yet Wersland made a point to state that it doesn't matter whether you're "throwing a football 70 yards or if you're going to go out and play catch with your son" the Theragun will "provide better therapy and better healing with vibration in less time, with less pain!"
The Spinal Centre Comment
We are getting fantastic results with the Theragun. We have changed our protocols to include the Theragun for all patients in the Chiropractic Stream. While it may be a little loud, patients cannot ignore the results they are seeing through receiving treatment with the Theragun.
Patients are feeling instant pain relief, their muscles are more relaxed and free, and movement comes with more ease. Patients from a range of differing ages and backgrounds including, athletes, desk job workers, and those suffering from life long injuries are all seeing an undeniable difference in their overall level of pain and recovery.
In conjunction with our care, the Theragun has been shown to relieve muscle fatigue, tightness, soreness, knots, spasms, stiffness, as well as symptoms caused by disc herniations, prolapse, nerve damage, atrophy, arthritis, stroke, multiple sclerosis and a range of other ailments.
Further Reading
Athletic and Sports Performance
References
If you like this article be sure to visit the Spinal Centre website at www.thespinalcentre.com.au and view more content by Dr. Hooper and the Spinal Rehabilitation Team.
© 2019 The Spinal Centre. All rights reserved.