Saturday, May 2nd, 2020

Chiropractic BioPhysics leads the way with Scientific Research
Surgeons, Neurologists and Physiotherapists supporting Postural and Structural Correction
We are in exciting times with regard to Chiropractic BioPhysics Research and our clinical work @ The Spinal Centre. Multiple landmark papers and clinical trials have been recently published that will enhance the care of all patients attending the Practice.
To kick off the year – and it is a particularly ground breaking study – is the link between increased blood flow to the brain after restoring the curve with in the neck.
That's right! Increased Cerebral Blood Flow, evidenced on brain magnetic resonance angiogram, following correction of Cervical Lordosis.
Thursday, October 10th, 2019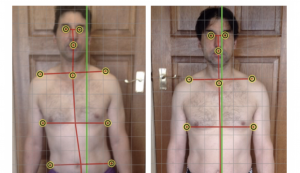 Case History: Chronic Lower Back Pain, Disc Herniation and Prolapse
This is not a testimonial. This is a Case Study of a real patient who attended the Practice.
Mr. B. is a 47 year old male factory worker that attended the Practice with acute debilitating lower back pain and disability. His diagnosis was that of lower back disc injuries (L3, L4 and L5). He was suffering chronic spinal pains, mid back and lower back pain with associated myofascial (muscle) weakness in the lumbopelvic region.
Monday, September 16th, 2019
Continue to Strengthen and Stabilise Your Spine
Spinal Reconstructive Care is designed to further strengthen and stabilise your spine. With decreased pains and better mobility, true healing, spinal correction and restoration of health can occur.
Spinal Reconstructive Care usually involves one session per week to one session per fortnight for most adult patients. Reviews are usually conducted depending on the health goals of the patient and complexity of spinal injuries.
The Key Benefits of Spinal Reconstructive Care:
To Build on the work of the Initial Intensive Care and Corrective Care Programs.
Continue your Postural and Structural Correction.
Continue Strengthen and Stabilise  Your Spine.
Improve Core Strength and Stability.
Continue to retrain muscle, ligaments and joint structures to achieve a more permanent Correction.
Sunday, August 25th, 2019
Nerve Damage in the Neck Related to Posture Balance
Sagittal Balance Matters For Neck Nerve Damage
A recent paper presented to World Neurosurgery, Science Direct and published through the PubMed investigates the relationship of posture and compression of the spinal cord in the neck.
As a Corrective Chiropractor, utilising postural and structural correction techniques of Chiropractic BioPhysic, this is one of many papers on PubMed, validating what we do.
Thursday, August 8th, 2019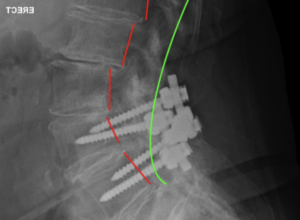 Case History: How We Help If You've Had Back Surgery.
Mrs. A is a 78 year old patient who attended the practice with chronic lower back pains and general disability. She had FOUR (4) lower back surgeries. The patient was due for surgery number five but decided on a different, more conservative path.
Looking at the X-ray of the lower back, you will note she had multiple fusions with metal rods. The metal fixations were 'power drilled' into the spine with four large self tapping screws. The screws hold two plates across the base of the spine.
Thursday, March 28th, 2019
Mr. F. is a 28 year old male garden worker who attended the Practice with what we call 'American Posture'.
This is a real patient within the Clinic, with untouched photographs.
And yes, he was only 26 when he started care. He was suffering with chronic low back pain (CLBP). He had been enduring spinal pain for 10 years and things were getting progressively worse.
In terms of postural distortion; Mr. F. had what we affectionally call an 'American Posture'. American Posture is a very common structural disturbance we see in a clinic. And as the name suggests it is very common postural problem within America.
American posture can come in different shapes and sizes. It is a driver of many lower back and neck conditions. As well chronic pain and disability.
Monday, February 4th, 2019

PUBLISHED: J Manipulative Physiol Ther. 1993 Jul-Aug;16(6):384-91.
AUTHORS: Jackson BL, Harrison DD, Robertson GA, Barker WF.
OBJECTIVE: To determine the degree to which the geometric line drawings used in Chiropractic Biophysics Technique (CBP) on lateral cervical radiographs are reliable.
CONCLUSIONS: The reliabilities for intra- and interexaminer were all greater than .70, indicating that these measurements in CBP technique would be considered accurate enough to provide measurements for future clinical studies. The data indicated that the C6-C7 relative rotation angle was the least reliable measurement.