Thursday, January 2nd, 2020

PUBLISHED: J Manipulative Physiol Ther. 2005 Mar-Apr;28(3):187-93. Pub Med: https://www.ncbi.nlm.nih.gov/pubmed/15855907
AUTHORS: McAviney J, Schulz D, Bock R, Harrison DE, Holland B.
RESULTS: Patients with lordosis of 20 degrees or less were more likely to have cervicogenic symptoms.
The association between cervical pain and lordosis of 0 degrees or less was significant.
Patients with cervical pain had less lordosis and this was consistent over all age ranges.
CONCLUSION: We found a statistically significant association between cervical pain and lordosis < 20 degrees and a "clinically normal" range for cervical lordosis of 31 degrees to 40 degrees.
Maintenance of a lordosis in the range of 31 degrees to 40 degrees could be a clinical goal for chiropractic treatment.
Thursday, October 10th, 2019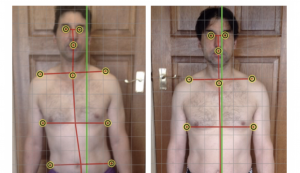 Case History: Chronic Lower Back Pain, Disc Herniation and Prolapse
This is not a testimonial. This is a Case Study of a real patient who attended the Practice.
Mr. B. is a 47 year old male factory worker that attended the Practice with acute debilitating lower back pain and disability. His diagnosis was that of lower back disc injuries (L3, L4 and L5). He was suffering chronic spinal pains, mid back and lower back pain with associated myofascial (muscle) weakness in the lumbopelvic region.
Monday, September 16th, 2019
Continue to Strengthen and Stabilise Your Spine
Spinal Reconstructive Care is designed to further strengthen and stabilise your spine. With decreased pains and better mobility, true healing, spinal correction and restoration of health can occur.
Spinal Reconstructive Care usually involves one session per week to one session per fortnight for most adult patients. Reviews are usually conducted depending on the health goals of the patient and complexity of spinal injuries.
The Key Benefits of Spinal Reconstructive Care:
To Build on the work of the Initial Intensive Care and Corrective Care Programs.
Continue your Postural and Structural Correction.
Continue Strengthen and Stabilise  Your Spine.
Improve Core Strength and Stability.
Continue to retrain muscle, ligaments and joint structures to achieve a more permanent Correction.
Thursday, August 8th, 2019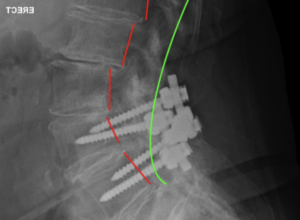 Case History: How We Help If You've Had Back Surgery.
Mrs. A is a 78 year old patient who attended the practice with chronic lower back pains and general disability. She had FOUR (4) lower back surgeries. The patient was due for surgery number five but decided on a different, more conservative path.
Looking at the X-ray of the lower back, you will note she had multiple fusions with metal rods. The metal fixations were 'power drilled' into the spine with four large self tapping screws. The screws hold two plates across the base of the spine.
Monday, April 22nd, 2019

PUBLISHED: Clin Biomech (Bristol, Avon). 2001 May;16(4):276-84. PubMed: https://www.ncbi.nlm.nih.gov/pubmed/11358614
AUTHORS: Harrison DE, Harrison DD, Janik TJ, William Jones E, Cailliet R, Normand M.
CONCLUSIONS: The stresses in kyphotic areas are very large and opposite in direction compared to a normal lordosis.
This analysis provides the basis for the formation of osteophytes (Wolff's Law) on the anterior margins of vertebrae in kyphotic regions of the sagittal cervical curve.
This indicates that any kyphosis is an undesirable configuration in the cervical spine.
Tuesday, July 17th, 2018
Case History: Chronic Lower Back Pain, Forward Head Carriage and 'Australian Posture'
Mr. M. is a 44 year old male sales and office worker who attended the Practice.  Yes a real patient, real person.
He was suffering with chronic lower back pain (CLBP). He had been enduring spinal pain for 25 years and things were getting progressively worse.
In terms of postural distortion; Mr. M. had what we affectionally call an 'Australian Posture'. Australian Posture is something we commonly see in Practice and is a driver of many lower back and neck conditions.
Australian Posture is the forward translation of the torso and head forward of the vertical green axis line, in the manner you see below. Not only does this create tremendous pressure on the lower back, but also the neck and shoulders.
Wednesday, July 4th, 2018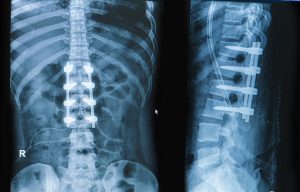 Surgeons are being warned to stop routinely undertaking spine-fusing operations over fears too many patients are being left needlessly crippled.
A gathering of Australian pain specialists have been told to scale back their reliance on common lumbar fusion operations by visiting US expert Dr Gary Franklin.
Dr Franklin – a neurologist and medical director of the Washington State Department of Labour and Industries – said his US study also found 44 per cent of workers were left permanently disabled a decade after fusion surgery.