Saturday, July 6th, 2019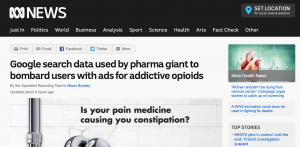 Google Search Date used by Pharma Giant to Bombard Users with ads for Addictive Opioids.
ABC News had highlighted Munipharma, a manufacturer of highly addictive painkillers has been using data-matching techniques to track people's Google health searches and target them with ads that increase in intensity until they respond.
Pharmaceutical company Mundipharma uses health searches on Google to target ads
The ads appear in web browsers and indirectly reference a brand of addictive oxycodone
The banner ads get more intense until people click on them
Monday, September 10th, 2018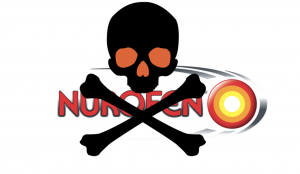 Inflammation is part of the body's innate intelligence, a method by which damage is repaired. Unfortunately when this gets painful, it can be difficult for some people to let the body heal itself unaided so they reach for the drugs. Can't blame anyone for this – as you have been aggressively marketed to for generations now.
NSAID's can do the job, they may dull the pain. However, this fast relief comes at a cost.
Raised liver enzymes, diarrhoea, headaches, dizziness, salt and fluid retention and high blood pressure are only a few of the numerous side effects that come with use of NSAID's.
Wednesday, March 7th, 2018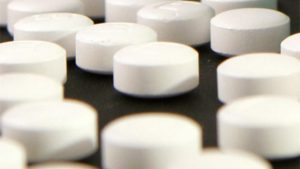 The current Essendon Supplement scandal highlights a number of core problems with football and sport in general.
The key issue is how far are athletes willing to go to make the team or win the event?
Athletes are always willing to go to great lengths to position themselves in front of the competition. But if you thrown enough money, and heap the glory on any sport – you begin to corrupt the process.
Combine this with gambling and whatever 'purity' was left soon starts to shrivel and die.
The tragedy is that while we are becoming more accustomed to it happening at an elite level – think AFL, ARL, the Tour etc. it is now happening in junior teams.
At grass roots level kids as young as 10 are taking a dangerous mix of drugs and high caffeine drinks before matches to get the edge on their opponents.
And this is what is showing up in hospitals lately.
Kids are washing down cold and flu medicaiton like Sudafed or pain killers like Nurofen with three or four cans of high caffeine drinks like Red Bull, V or mother.
If you think it would not happen to your kids – you might like to think again.
Monday, October 30th, 2017
The most commonly used medication for back and neck pain has been proven to be useless. No better than placebo or a sugar pill.
Despite being 'the' recommended front line treatment for back pain in the 'scientific' community for over 50 years – no one has really bothered to check it.
Until now.
I have written about Paracetamol in the past, as it causes extensive damage to the liver and the kidneys. Indeed Paracetamol, has surpassed hepatitis and alcohol to become the most common cause of liver failure in Australia.
Patients should always avoid or be very judicious in the use of Paracetamol, as accidental overdose can easily occur when you are struggling with pain resulting in liver failure and even death.
Monday, May 22nd, 2017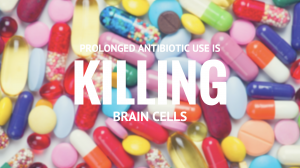 Gone are the days where prolonged antibiotic use is without healthy scrutiny. Even in allopathic circles, there appears to be hesitation when it comes to prescribing antibiotics unnecessarily.
However, the potential adverse effects that can be tied up with such use are still being revealed. A new study published in the Journal Cell Reports notes a new concern to add to that file.