Monday, May 22nd, 2017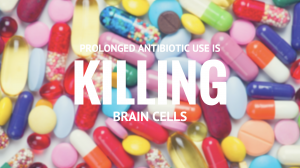 Gone are the days where prolonged antibiotic use is without healthy scrutiny. Even in allopathic circles, there appears to be hesitation when it comes to prescribing antibiotics unnecessarily.
However, the potential adverse effects that can be tied up with such use are still being revealed. A new study published in the Journal Cell Reports notes a new concern to add to that file.
Monday, March 20th, 2017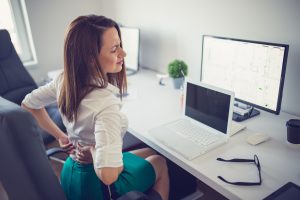 Most of us are in the same predicament – sitting at a desk for 8 hours a day, hunched over the keyboard with our necks bent in unnatural positions.
In truth, our backs were not designed to spend long periods of time sitting at desks. Spending 6 to 8 a day in front of the computer can lead to shoulder, arm, hand and neck problems, as well as issues with balance and co-ordination. Here, in this article, we discuss how office-workers can avoid back pain with a few simple changes to their routine.
Monday, January 2nd, 2017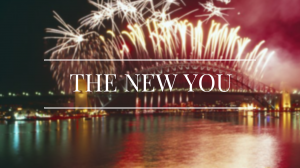 Start the new year right by committing to a healthier Chiropractic lifestyle. A few simple and practical lifestyle changes can make a positive impact on your health and can also prevent you from experiencing a painful injury in the year ahead.
Wednesday, December 14th, 2016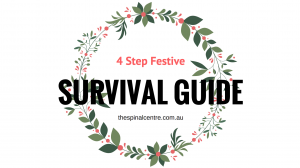 If you are alive, still have a job and have a few plants left in the garden you're doing well. Indeed you are probably miles ahead of others in the community who are finding it pretty tough.
Enjoy what you have got. There is no need to abstain from celebrating – you have earned it. Here is the essential 4 step plan to get through the festive season with no guilt or gut ache!
Wednesday, December 14th, 2016
The day to day use of technology, often spending hours hunching over, slouching down and excessively flexing your neck can cause both damage and deterioration of the spine.  Chin Tucks are perfect for specifically targeting the muscles in your neck which assists in reversing the damage while improving both stability and functional strength.
Thursday, July 4th, 2013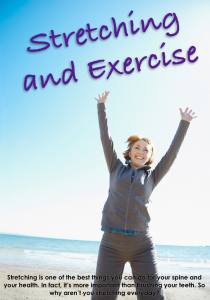 The Stretching and Exercise Booklet contains all the rehabilitation exercises you will ever need.
This is a fantastic Free eBook that covers stretching, basic and advanced Ball training, core stability, strength training and Hydrotherapy.
For patients of the practice I recommend that you download and implement the simple stretches and first few ball exercises once you have begun Spinal Reconstructive Care.
Friday, May 31st, 2013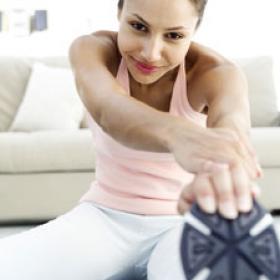 Stretching is one of those things that we know we should do, but never find time to do!
Well if you are reading this then you are most likely under care and getting a regular adjustment. But what can you do to help?
Stretching is perhaps one of THE MOST IMPORTANT THINGS you can do to facilitate your Neuro-Muscculoskeletal Care.
Unfortunately, most people stretch too little, and when they do, the do so too aggressively. The result: torn muscles, a sense of frustration, and generally more pain.
Stretching needs to become part of your life.
The more time you spend stretching the less likely you are to have injuries of your muscles and ligaments.
Stretching is just like brushing your teeth:
Stretch every day – spinal hygiene is important.
Don't push it too hard – the gums don't bleed, but you can tear a muscle.
Make it part of your routine – do you only brush your teeth when they are sore?
Stretching does not replace the Chiropractor – but enhances your Chiropractic care.
Does not cost anything – but will save you money and reduce your pain.