Wednesday, March 26th, 2014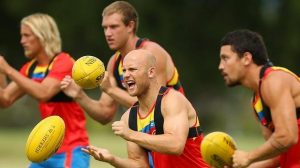 Being a Geelong fan, I deep down, consider that Gary Ablett is still one of us.
Perhaps it is denial but I still have trouble reconciling that he has gone to 'the Suns'.
Like all true Geelong fans, we believe that he will return to the fold. To win one more premiership in the twilight of his career.
Dreaming. Hoping. Praying. He is, after all, the son of god.
Ok,
Probably not going to happen.
But what is worth a mention is his diet.