Friday, November 16th, 2018
We are Growing to Serve You Better
As our team of practitioners continues to grow, we have altered the balance of the clinics to provide you with the best care possible.
Consulting times for practitioners may vary from what you have become accustomed, so check the new hours.
As always the friendly Reception Team can assist you to implement your treatment plan. Reception is available all day, every day during the working week from 8.00 am, and on Saturday mornings.
Be sure to secure the times that best suit your busy schedule.
Thursday, October 11th, 2018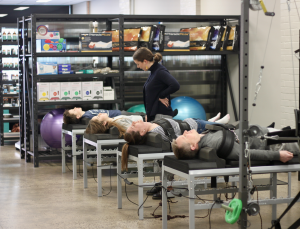 Dr. Ruby Attending To Spinal Rehabilitation
With the increase use of mobile technology it is more important than ever to have your children checked to ensure their spine is growing with normal alignment. 
Hours spent in front of a screen, heads bent forward, shoulder hunched with anterior head carriage can reverse the lordotic curve within the neck. Loss of the normal cervical (neck) curve can create a lot of strain on the neck and shoulders – even generating headaches.
Loss of cervical curve is easily reversed with mirror image correction and simple traction protocols.
It is so easy – the whole family can do it. Under the watchful eye of our rehab team member – Dr. Ruby.