Tuesday, October 8th, 2019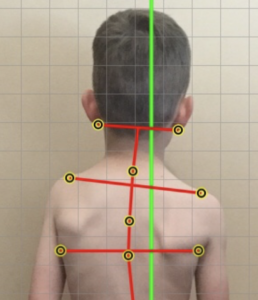 Scoliosis and Postural Screening Assessment
Is it Time To Have Your Child's Spine and Posture Checked?
These are the results of a spinal, postural and scoliosis assessment of one of the children we assessed during the holiday period.
Back in the day scoliosis and growth checks where done by doctors and nurses who visited schools to screen children. It was a valuable service provided by the government to screen all primary age children for genetic, growth or developmental disorders.
But who is performing this service now?
Friday, June 21st, 2019

PUBLISHED: J Manipulative Physiol Ther. 1996 Jul-Aug;19(6):398-405. Pub Med: https://www.ncbi.nlm.nih.gov/pubmed/8864971
AUTHORS: Harrison DD, Troyanovich SJ, Harrison DE, Janik TJ, Murphy DJ.
CONCLUSION: The usual, typical or normal configuration of the cervical spine in the sagittal dimension is a lordosis with a range of 16.5-66 degrees when measured as tangent lines along the cervical curve of the posterior vertebral body margins of C2 and C7.
An analysis of stresses and strains supports this claim, as do studies from the scientific literature that attempt to measure and classify average cervical configuration from large population bases.
The use of normative data as a gauge against which to measure patients' structural health and as an outcome of the degree of success or failure of chiropractic interventions seem to be logical consequences of these findings.
Thursday, November 15th, 2018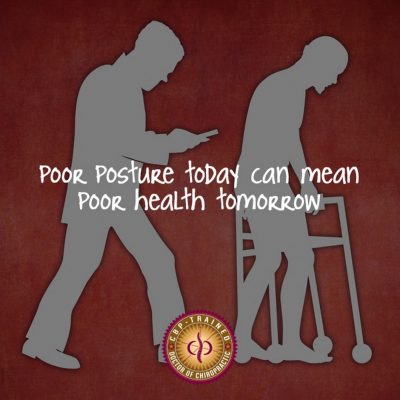 The way you stand, walk and sit today have a long term effect. Next time you're walking down the street looking down at your phone consider what the long term effect of that action might be.
Your Posture and Your Health are Connected. 
Tuesday, October 23rd, 2018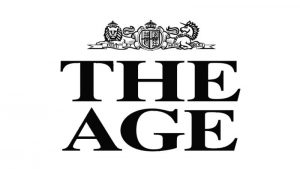 CBP Featured in Lifestyle Magazine of The Age Newspaper
A recent article featured in The Age, explored one reporter's experience with the 'new Chiropractic trend' Chiropractic BioPhysics.
Having tried standard Chiropractic, the reporter Sue Williams describes her experience with Dr. Alex Hopwood, a Chiropractic BioPhysics practitioner or 'Corrective Chiropractor'.
Of interest is that Dr. Hooper and Dr. Hopwood trained together in America, completing the intensive CBP certification program at The Ideal Spine Centre in Boise.
This is an interesting first hand account of what it is like to receive CBP care.
Note that @ The Spinal Centre, the entire clinic is focused on the Postural and Structural Correction of CBP. In particular, the Hawthorn Spinal Centre, is built from the 'ground up' encapsulating the very best features of the larger rehabilitative centres in the USA.
Tuesday, July 17th, 2018
Case History: Chronic Lower Back Pain, Forward Head Carriage and 'Australian Posture'
Mr. M. is a 44 year old male sales and office worker who attended the Practice.  Yes a real patient, real person.
He was suffering with chronic lower back pain (CLBP). He had been enduring spinal pain for 25 years and things were getting progressively worse.
In terms of postural distortion; Mr. M. had what we affectionally call an 'Australian Posture'. Australian Posture is something we commonly see in Practice and is a driver of many lower back and neck conditions.
Australian Posture is the forward translation of the torso and head forward of the vertical green axis line, in the manner you see below. Not only does this create tremendous pressure on the lower back, but also the neck and shoulders.
Thursday, February 16th, 2017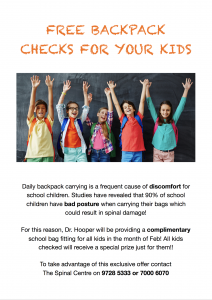 For the month of February Dr. Hooper will be providing a complimentary school bag fitting for all kids!
All kids checked will receive a special prize.
To take advantage of this exclusive offer contact The Spinal Centre on 1300 2 SPINE, or Hawthorn 7000 6070 and Montrose 9728 5333.
Wednesday, December 14th, 2016
The day to day use of technology, often spending hours hunching over, slouching down and excessively flexing your neck can cause both damage and deterioration of the spine.  Chin Tucks are perfect for specifically targeting the muscles in your neck which assists in reversing the damage while improving both stability and functional strength.