Monday, September 16th, 2019
Continue to Strengthen and Stabilise Your Spine
Spinal Reconstructive Care is designed to further strengthen and stabilise your spine. With decreased pains and better mobility, true healing, spinal correction and restoration of health can occur.
Spinal Reconstructive Care usually involves one session per week to one session per fortnight for most adult patients. Reviews are usually conducted depending on the health goals of the patient and complexity of spinal injuries.
The Key Benefits of Spinal Reconstructive Care:
To Build on the work of the Initial Intensive Care and Corrective Care Programs.
Continue your Postural and Structural Correction.
Continue Strengthen and Stabilise  Your Spine.
Improve Core Strength and Stability.
Continue to retrain muscle, ligaments and joint structures to achieve a more permanent Correction.
Thursday, March 28th, 2019
Mr. F. is a 28 year old male garden worker who attended the Practice with what we call 'American Posture'.
This is a real patient within the Clinic, with untouched photographs.
And yes, he was only 26 when he started care. He was suffering with chronic low back pain (CLBP). He had been enduring spinal pain for 10 years and things were getting progressively worse.
In terms of postural distortion; Mr. F. had what we affectionally call an 'American Posture'. American Posture is a very common structural disturbance we see in a clinic. And as the name suggests it is very common postural problem within America.
American posture can come in different shapes and sizes. It is a driver of many lower back and neck conditions. As well chronic pain and disability.
Friday, February 1st, 2019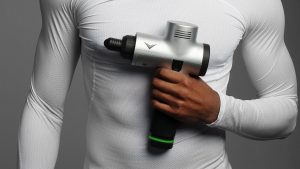 The Hypervolt is a state-of-the-art hand held percussive treatment tool we use to assist patients in The Spinal Centre. Hypervolt represents some of the latest technologies, direct from America, to relieve muscle soreness, stiffness and significantly decrease pain.
So, if it is a new, nifty and tremendously useful technology – then of course we use it @ The Spinal Centre.
Sunday, December 16th, 2018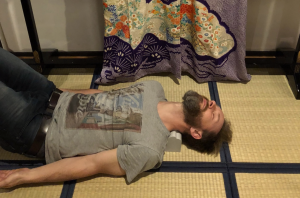 Where is Your Denny? Japan.
For Spinal and Postural Correction that continues outside the Practice, Denneroll provides a scientifically valid and clinically effective spinal orthotic to enhance your health.
Fifteen to twenty minutes is all that is required to achieve good curve correction.
It is an integral part of your care. Remember to get the best results – you will have to do your home work.
This is Dean using his Denny while away in Japan. We are not sure if he was actually travelling or just threw out his bed at home. He assures us he was OS.
Tuesday, October 23rd, 2018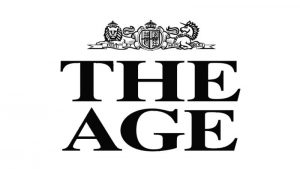 CBP Featured in Lifestyle Magazine of The Age Newspaper
A recent article featured in The Age, explored one reporter's experience with the 'new Chiropractic trend' Chiropractic BioPhysics.
Having tried standard Chiropractic, the reporter Sue Williams describes her experience with Dr. Alex Hopwood, a Chiropractic BioPhysics practitioner or 'Corrective Chiropractor'.
Of interest is that Dr. Hooper and Dr. Hopwood trained together in America, completing the intensive CBP certification program at The Ideal Spine Centre in Boise.
This is an interesting first hand account of what it is like to receive CBP care.
Note that @ The Spinal Centre, the entire clinic is focused on the Postural and Structural Correction of CBP. In particular, the Hawthorn Spinal Centre, is built from the 'ground up' encapsulating the very best features of the larger rehabilitative centres in the USA.
Wednesday, July 4th, 2018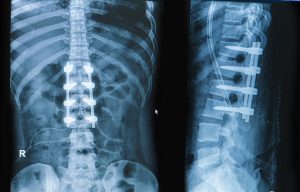 Surgeons are being warned to stop routinely undertaking spine-fusing operations over fears too many patients are being left needlessly crippled.
A gathering of Australian pain specialists have been told to scale back their reliance on common lumbar fusion operations by visiting US expert Dr Gary Franklin.
Dr Franklin – a neurologist and medical director of the Washington State Department of Labour and Industries – said his US study also found 44 per cent of workers were left permanently disabled a decade after fusion surgery.
Tuesday, July 3rd, 2018
It is with great pleasure The Spinal Centre announces the arrival of Dr. Ruby.
Ruby is an Osteopath who completed her Bachelor of Clinical Science and Masters of Osteopathy at Victoria University, graduating in 2017. You may have noticed Ruby busily working with the Rehabilitation Team over recent months.