Thursday, December 1st, 2016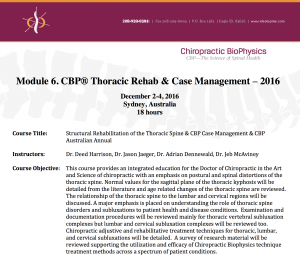 Dr. Hooper will be attending a Thoracic Spine Rehabilitation Seminar in Sydney this weekend. This seminar is focused on Chiropractic BioPhysics Rehabilitation and Case Management of the Thorax (mid back).
Therefore, due to the seminar obligations the Practices will be closed on Friday December 2nd until Monday evening December 5th. Normal hours for both Practices will resume on Tuesday December 6th, 2016.
This Rehab Seminar will cover the most update research and latest developments in the treatment and management the thoracic spine, postural correction and arthritic prevention.