How the Clinic Works
Arrival Procedure
When you arrive at the clinic, it is important that the Receptionist knows you are there. If they are busy with other patients they may not see you arrive and you may then not be seen in turn. So when you arrive, be sure that they know who you are and when your appointment is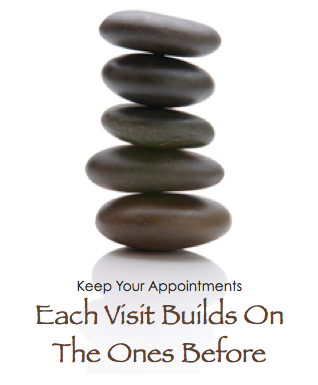 Appointments
We always do our absolute utmost to see you as close as possible to your appointment time. Unfortunately this cannot always be the case.
Research has shown that 10% of patients arrive late, 10% arrive early and 10% either miss their appointment completely or come on the wrong day or the wrong week. When you combine this sort of irregularity with the simple fact that not all cases take a predictable length of time, it is easy to see how we can occasionally run late.
To help us stay on time, it is important that you arrive on time, preferably about 5 minutes early.
This has two benefits; firstly, it allows you to sit down and relax for a few minutes before your treatment and secondly if we can we will see you early.
When we have emergency patients they will automatically take priority.
Fees and Payments
Our fees are well below the Recommended Fee Schedule. All fees are due and payable at the time of consultation.
Whilst it is not mandatory, as a courtesy we do offer discounted rates to Aged Pensioners, Valid Pension Concession Card Holders and children. (Fees are updated according to CPI)
Dr. Hooper is an Integrative Medicine Practitioner registered in two fields of practice with the Australian Health Practitioner Regulatory Authority (AHPRA).
The benefit to you is that your consultations with Dr. Hooper can be billed as Chiropractic or Chinese Medicine, as he uses all skill sets when treating.
The default billing for Dr. Hooper is Chiropractic. If you run out of cover for Chiropractic we can bill as Chinese Medicine, this can represent a great saving in the cost of your care.
Cancellations and Missed Appointments
Because the appointment book fills very quickly, many times through the day the Receptionist has to turn away patients that want to be seen. Sometimes these patients are in pain and have to wait until the next day.
Therefore if you can't keep your appointment please give us at least 48 hours notice.
That way we can achieve two important tasks:
We can reschedule a new appointment for you so you don't miss out on your treatment, or delay your recovery time.

We can give your old appointment time to someone else who may be suffering.
If you need to reschedule, be sure to select a time as close as possible to your original appointment time.
not delay your recovery by "leaving it until next week".
For example, if you are scheduled for two sessions per week and cannot make it, do not skip the second appointment, please come in the next day or as soon as possible.
Each treatment builds on the one before. Cancelling and rescheduling only prolongs your treatment time and pain.
We do understand that occasionally things pop up that upset your daily schedule and may cause you to miss or late-cancel an appointment.
However, if you miss or late-cancel repeated appointments, you will be asked to pay for the wasted appointment time. Note that for those on Workcover or TAC you will be personally responsible for the wasted time, not the insurance company.
Children
Children benefit enormously from Chiropractic. With all the bumps and falls that occur during childhood, it's a wonder that some of us make it to adulthood.
Most of the problems that we see in adult patients are actually old childhood problems that have simply been ignored.
The old maxim that "you will grow out of it" could not be further from the truth. Most injuries that children receive get grown "into", not "out of".
"As the twig is bent so grows the tree" sums it up nicely. Slightly out of line children grow up to be very much out of line, degenerative and ill adults.
Therefore we strongly suggest that you have your children checked regularly.
A FREE Initial Consultation and Spinal examination is available for all children of patients within this practice.
If you would like use to arrange the complimentary Initial Consultation for your kids, please do not hesitate to book with the friendly reception team.
Work cover and TAC Patients
Dr. Hooper is a Workcover and TAC accredited Doctor and therefore you do not require a referral for care.
For Workcover and TAC we will "bulk bill" the rebatable component of your care for you (this includes treatment, braces, orthotic supports, heat plasters etc.). However you will be required to pay a "co-payment" that helps to cover the gap between our normal patient fees and what the insurance company eventually pays.
The co-payment, natural medications or other costs associated with your care cannot be charged to Work cover or TAC. They are the responsibility of the patient and full payment is required at the time of the consultation.
Why don't we bill Private Health Insurance Companies Directly (HI-CAPS)?
We are often asked why you don't bill the health insurance company directly. Why don't you have a HICAPS machine? Or, why aren't you a "preferred provider"?
The answer is simple: We work for you, not for your insurance company.
Our relationship and responsibility is to you. Our care and concern is for you. Not the insurance company. We treat you – not your insurance policy.
We can provide a statement of all consultations at any time that will facilitate your claim.
Mobile Phones, iPads and Computers
We do provide a free WiFi for use in reception so you can be productive with your time and catch up on some reading.
While you are there, why not download one of the free eBooks from the Patient Resources section of the website. Alternatively, check the Hooper Blog for current news, views and practice information updates.
However, when you enter the treatment rooms, please TURN OFF your electronic devices.
If you are laying down you cannot answer the phone anyway. Nothing is more irritating than a phone endlessly ringing when you are trying to relax and enjoy your treatment.
How Can I Help Myself Get Better Quicker?
MOST IMPORTANT: Always for for a five to ten minute walk before you get into the car and drive home.
With out this walk, you will lose about half the benefit of your correction.
There are several "Do's and Don'ts" which if closely observed, will help you get the most from your spinal corrections, plus speed up and enhance your overall improvement.
In fact there are several postural habits that may have developed that will slow down improvement to a virtual standstill.
These things are absolute No-No's as far as your spine is concerned:
DO NOT bend and twist from your lower back: instant damage.
DO NOT sit on your wallet or purse.
DO NOT sleep on your stomach; on your side or back is fine.
DO NOT lie on the couch: if you are that tired, go to bed.
DO NOT fall asleep in a chair: chairs are for sitting.
DO NOT sit propped up in bed reading.
DO NOT roll your neck in a circle: very dangerous.
DO NOT sit with your legs crossed at the knee: at the ankle is fine.
DO NOT sit for more than half an hour without a break.
The same basic rules apply to sport.
The three worst sports ever invented as far as the spine is concerned are Jogging, Aerobics and Squash.
The best three sports are Swimming, Walking and Cycling.
Remember; You should be walking at least 15 to 20 minutes morning and night each day aside from the activities you do at work or home.
If you cannot do this initially, then build up slowly over a number of week. It does not matter how long it takes, just keep working toward your goal.
Keeping mobile is a key to your recovery!