Would You like to know exactly what foods are making You Sick?
Are you seeking fact rather than an opinion?
Do you want to help control your asthma, eczema, psoriasis, hay fever, arthritis, muscle or joint pain, headaches and migraines, bloating, indigestion, reflux, itching eyes, fatigue or tiredness?
Would you like to know once and for all what you can (and can't) eat?
Imagine if you were feeling 100% everyday. You could wake up feeling healthy, lively and at optimal health. You could have the energy to make it through a full day of work, and have enough left over to play with your kids at night.
Here is how you can discover the answers to your health questions once and for all. Learn the exact foods that your body is reacting negatively – no guessing – just facts! Learn which foods to moderate and avoid and feel the dramatic improvement in your health immediately.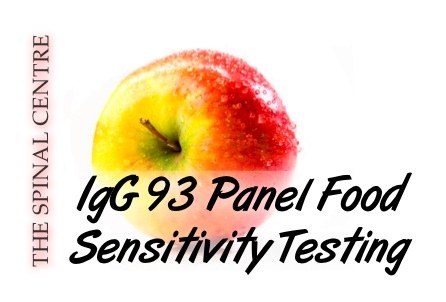 Introducing The Spinal Centre Orthomolecular Medicine – a scientific approach to better health.
Stop wasting money on appointments that leaves you with more questions than answers
If you are tired of visiting doctor after doctor, specialist after specialist for explanation, here is your answer. While you may spend hundreds on appointments that leave you confused, you can now have all the answers in front of you.
You get facts, not opinions
The IgG 93 Food Panel Test and Interpretative Report is based on your blood, and the reactions that occur when it is tested with over 93 different foods. We won't give you guesses, predictions or excuses – just hard facts and solutions.
Why Food Sensitivity Testing?
Food sensitivities are the underlying culprit in many disease states, especially those like Irritable bowel syndrome, fatigue, constipation, diarrhoea, eczema, psoriasis, weight gain, mouth ulcers,
chronic tonsillitis and other chronic conditions where the immune system seems to turn against you!
How important is your health?
So what does your health mean to you? Is it the ability to wake every morning feeling good? Or is the ability to go to work everyday? Or maybe health means that you can be there for you children. Whatever your answer, health is important.
Good health enables you to perform the daily functions of your life optimally. It allows you to obtain knowledge, work everyday and achieve goals in life.
Experience good health daily – not occasionally!
Good health depends on what you are putting into your body. Healthy eating can prevent illness and medical conditions, and make you feel 100% everyday. But, what if you were allergic to many of the foods that you  eat everyday? What adverse reactions is your body experiencing, without
you even being aware? And, knowing these triggers, what could you do to improve your health?
Welcome to the health revolution. Brought to you by The Spinal Centre, the 93 IgG Food Panel Test will determine which foods are causing a reaction in your body, and will help guide you on the
path to better health.


What is included?
In this Food Sensitivity test, you will get a personalised detailed report that will cover
everything you need to know about your allergies, including:
Find out exactly what you are allergic to tested from 93 different foods
Find out where these foods are found, and what they are hidden in
Reactive food alternatives – a full list of tasty alternatives for your problem foods
Personalised natural medicine recommendations to ease your ailments
Instructions for eating out – find out what to avoid and what to ask for
Delicious, nutritious and easy recipes for every meal of the day
Tips, swaps and secrets to replace your food sensitivities in cooking and baking
Your Shopping List – what to buy and where to buy it
Information about the Fat That's Good For You – and how to use it everyday
The key rules to live by for optimal health
Will this test change my life?
In short – Yes!
You will have the power and knowledge to actively change your health for the better by eliminating problem foods and taking the steps to achieve optimal health.

So how will this work?

The Spinal Centre IgG 93 Food Panel Test is simple and fuss-free to complete. After you have processed your order on The Spinal Centre, we will send you an  instruction pack and referral manual.
You will need to visit a blood collection centre in your area, have a sample taken and we will handle the rest.
Our highly personalised detailed report will be sent to you, and support is always there if you have any questions or queries.
You will receive the answers to your health concerns in one simple test.
We cannot recommend this test highly enough for anyone wanting to achieve the best health possible. Not only will you find out what foods are making you feel sick – you will also get the answers on how to  change this around. This test has been used extensively in clinics for many years, and now The Spinal Centre provides you with a convenient, fuss-free way to get the answers you want.
Feel better now – not later with The Spinal Centre Orthomolecular Medicine and get the facts – not the opinions.
Take the Test Now!
Follow the link below to purchase the IgG Food Sensitivity Test.
Finally you will know – once and for all – what you can eat, and what you can't?
Finally you can have a Nutritional Road Map so you take control of your diet, and your health, now and in the future?
This is one of THE MOST IMPORTANT tests that you can ever have done, to assist you in taking back CONTROL OF YOUR HEALTH.
Take the step to better health and purchase the  IgG Food Sensitivity Test  today!