Saturday, November 17th, 2018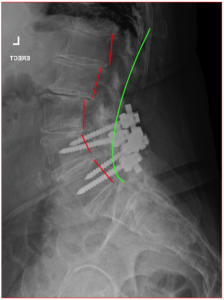 How We Help If You've Had Back Surgery.
Mrs. A is a 78 year old patient who attended the practice with chronic lower back pains and general disability. She had FOUR (4) lower back surgeries. The patient was due for surgery number five but decided on a different, more conservative path.
Looking at the X-ray of the lower back, you will note she had multiple fusions with metal rods. The metal fixations were 'power drilled' into the spine with four large self tapping screws.
Can Corrective Chiropractic Help?
Contrary to popular belief, it is important to be have your posture and spine checked for correct alignment. Particularly after surgery.
If you have had back surgery, fusions or plates put in the spine; they will alter normal lordotic (curvature) patterns in the spine.
The greater the translation forward of the body = the greater the load on the lower spine. More Load = More Pains.
Wednesday, July 4th, 2018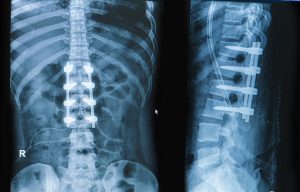 Surgeons are being warned to stop routinely undertaking spine-fusing operations over fears too many patients are being left needlessly crippled.
A gathering of Australian pain specialists have been told to scale back their reliance on common lumbar fusion operations by visiting US expert Dr Gary Franklin.
Dr Franklin – a neurologist and medical director of the Washington State Department of Labour and Industries – said his US study also found 44 per cent of workers were left permanently disabled a decade after fusion surgery.