Monday, July 29th, 2019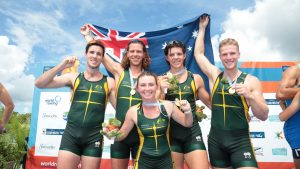 Australia's U23 Men's Coxed Four were crowned World Rowing U23 Championships 2019.
It is with great pleasure we announce patients of the Practice, Mitchell Hooper and pair partner Ben Canham became World Rowing Champions in Sarasota Florida.
According to Rowing Australia:
In calm conditions, the U23 Men's Coxed Four of Ben Canham, Angus Dawson, Mitchell Hooper, Adam Bakker and Caitlin Hockings were crowned World Champions after leading their final from start to finish. The crew, coached by Nick Mitchell, won their heat earlier in the week and Hockings led her crew out firing in the final today in Florida.

The crew clocked a time of 6 minutes 10 seconds to claim victory, having to hold off a last minute sprint to the line from Great Britain, who took silver, and Italy who took bronze. There was only 0.09 of a second between the Australians and the British as the boats crossed the line, while the Italians were just 0.63 of a second behind the Australians.
Friday, July 26th, 2019
Text Courtesy of Australian Rowing
The U23 Men's Eight had a late change with Alexander Jeremijenko being replaced with team-mate Mitchell Hooper. Hooper, who is part of Australia's U23 Men's Coxed Four that won their heat yesterday (Wednesday) to progress straight to Saturday's A-Final, will be doubling up and racing both the U23 Men's Coxed Four and the U23 Men's Eight.
Friday, July 26th, 2019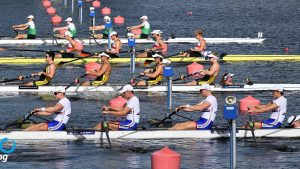 "Straight off the start in Heat Two, Australia took the lead and them moved into a stroke rate of 39. The Australians maintain this going into the halfway. Great Britain, Germany and Ireland followed all tightly packed together. Then Ireland made a move going through the 1000m. They grabbed two seats on Germany.

Great Britain went with them and were now even with Ireland. Australia were still the fastest moving boat on the water, with the highest rate – 38. Then Germany must have wanted back in and made a move. They got their bow past Ireland and Great Britain and tried to close the gap that Australia had."
Tuesday, July 23rd, 2019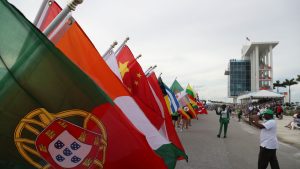 The Under 23 Australian Rowing Team are set to race this week at the World Rowing U23 Championships. The regatta takes place at Sarasota-Bradenton in the United States of America from 24 to 28 July 2019.
The event will host nearly 700 athletes from 53 nations, with Australia entering 40 athletes in 13 crews. Patients of the Practice; Ben and Mitchell Hooper will be among the competitors.
Friday, July 12th, 2019
Congratulations to Ben and Mitchell on Australian Team Selection
Patients of the Practice, Mitchell Hooper and pair partner Ben Canham have been selected to represent Australia at the 2019 World Rowing Championships, taking place in Florida this month.
After a highly successful season, representing Mercantile Rowing Club, Mitchell and Ben have been selected with Adam Bakker, Angus Dawson and Caitlyn Hockings to compete in the Mens Coxed Four division.
Monday, May 14th, 2018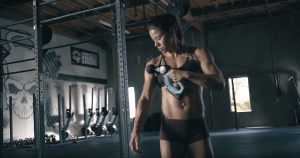 While it might resemble something you'd pick up at Bunnings, the Theragun is becoming the new best friend for many of our patients here at The Spinal Centre.
The foam attachments create localized vibration to stimulate intense blood flow to treat sore muscles, chronic pain and improve mobility. The frequency of the device is calibrated to interrupt the brain's pain receptors, reducing discomfort during treatment.
The Theragun works well on tight muscles, relaxing them in a matter of minutes. Despite it's intimidating exterior, it never actually hits the body with force, instead it glides across the body with constant vibration.
Monday, April 16th, 2018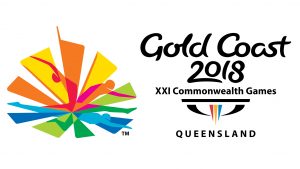 Following many months of preparation, thousands of athletes from around the world have arrived at the Gold Coast to compete in the Commonwealth Games. The games will wrap up shortly, but did you know that many athletes and sporting professionals incorporate chiropractic care into their overall wellness regimen? 
Many not only have chiropractors to get them ready for the games but also throughout to ensure they are at peak psychical level. With the Australian love of sport, chiropractors regularly come across sporting-related ailments and provide care to patients who participate in sport.
With an extensive elite sporting background, Dr. Hooper and The Rehabilitation Team are well placed to achieve your sporting goals.