Tuesday, September 17th, 2019
Dr. Franco Columbu – Chiropractor, Mr. Olympia, Powerlifter
It is with great sadness we heard the news that Dr. Franco Columbu passed away.
If you followed Arnold Schwarzenegger's career, read the bios, watched Pumping Iron or a few Terminator films – you would know Franco. Franco was a helluva lot of bloke packed in a small body.
Two time Mr. Olympia, Italian Boxing champion, European Powerlifting champion, one of the World's Strongest Men, Actor, Author and Arnold's Chiropractor.
Tuesday, July 30th, 2019
Australian Rowing Mens VIII – Sixth @ World U23 Rowing Championships
According To Rowing Australia:
The U23 Men's Eight were drawn in Lane 1 in their A-Final, racing against Netherlands, USA, Great Britain, Romania and Germany. The crew of Elliot Apel, Mitchell Hooper, Alexander Wolf, Harry Crouch, Jack Robertson, George Finlayson, Jackson Kench, Angus Morrison and coxswain Alannah Gilsmore would no doubt have been buoyed overnight by Hooper's victory in the U23 Men's Coxed Four final.

The Australians came out of the start rating 47, and the crew coached by John Bowes, were in fifth, while Great Britain took the early lead. As the race progressed, the Australians couldn't manage to catch race leaders, and eventual winners, Great Britain, with the Australians crossing the line in sixth place.
Monday, July 29th, 2019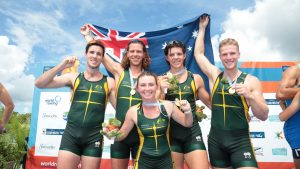 The Australia's Men's Coxed Four are the new U23 World Rowing Champions 2019.
It is with great pleasure we announce patients of the Practice, Mitchell Hooper and pair partner Ben Canham became World Rowing Champions in Sarasota Florida.
According to Rowing Australia:
In calm conditions, the U23 Men's Coxed Four of Ben Canham, Angus Dawson, Mitchell Hooper, Adam Bakker and Caitlin Hockings were crowned World Champions after leading their final from start to finish. The crew, coached by Nick Mitchell, won their heat earlier in the week and Hockings led her crew out firing in the final today in Florida.

The crew clocked a time of 6 minutes 10 seconds to claim victory, having to hold off a last minute sprint to the line from Great Britain, who took silver, and Italy who took bronze. There was only 0.09 of a second between the Australians and the British as the boats crossed the line, while the Italians were just 0.63 of a second behind the Australians.
Friday, July 26th, 2019
Text Courtesy of Australian Rowing
The U23 Men's Eight had a late change with Alexander Jeremijenko being replaced with team-mate Mitchell Hooper. Hooper, who is part of Australia's U23 Men's Coxed Four that won their heat yesterday (Wednesday) to progress straight to Saturday's A-Final, will be doubling up and racing both the U23 Men's Coxed Four and the U23 Men's Eight.
Friday, July 26th, 2019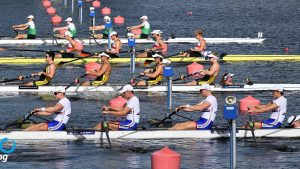 "Straight off the start in Heat Two, Australia took the lead and them moved into a stroke rate of 39. The Australians maintain this going into the halfway. Great Britain, Germany and Ireland followed all tightly packed together. Then Ireland made a move going through the 1000m. They grabbed two seats on Germany.

Great Britain went with them and were now even with Ireland. Australia were still the fastest moving boat on the water, with the highest rate – 38. Then Germany must have wanted back in and made a move. They got their bow past Ireland and Great Britain and tried to close the gap that Australia had."
Monday, June 17th, 2019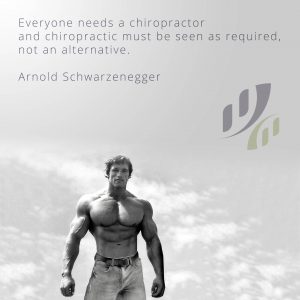 "Everyone needs a chiropractor and chiropractic must be seen as required, not an alternative." – Arnold Schwarzenegger.
Friday, February 1st, 2019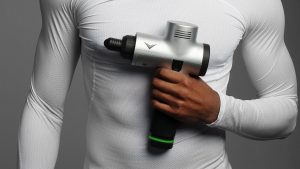 The Hypervolt is a state-of-the-art hand held percussive treatment tool we use to assist patients in The Spinal Centre. Hypervolt represents some of the latest technologies, direct from America, to relieve muscle soreness, stiffness and significantly decrease pain.
So, if it is a new, nifty and tremendously useful technology – then of course we use it @ The Spinal Centre.